Nioxin
System 6 Scalp Revitalising Conditioner
System 6 is ideal for or Medium/Coarse, Chemically Treated, Noticeably Thinning Hair.
The perfect first step to getting thicker, fuller and denser hair.
For a more youthful-looking, cleaner scalp and fuller, healthier-looking hair.
We have free returns - please read our returns policy
here
.
The Nioxin Scalp Revitaliser 6 for Medium Thick Natural & Coloured Hair is a lightweight conditioner that has been specially formulated to improve hair's resilience and control moisture balance.
Nioxin have developed systems that are tailored for individuals needs. This Nioxin Scalp Revitaliser 6 for Medium Thick Natural & Coloured Hair is a high performance conditioner that revives your scalp and strengthens hair.
Directions of use:
After cleansing, distribute onto scalp and throughout the hair.
Leave for 2-3 minutes.
Rinse well.

For best results always use the Nioxin 3-part system:

Nioxin Cleanser
A daily volumizing Nioxin hair loss cleanser that delivers proteins, vitamins and amino acids and removes residue, toxins and DHT (Dihydrotestosterone) from the scalp and hair.

Nioxin Scalp Revitaliser
The Nioxin Scalp Revitaliser is a conditioner that moisturizes and energizes the scalp and hair to promote a healthier scalp and extra volume.

Nioxin Scalp Treatment
A daily leave-in scalp treatment that delivers essential botanicals, nutrients, antioxidants and vitamins to the scalp and hair to create an ideal environment for fuller, healthier hair.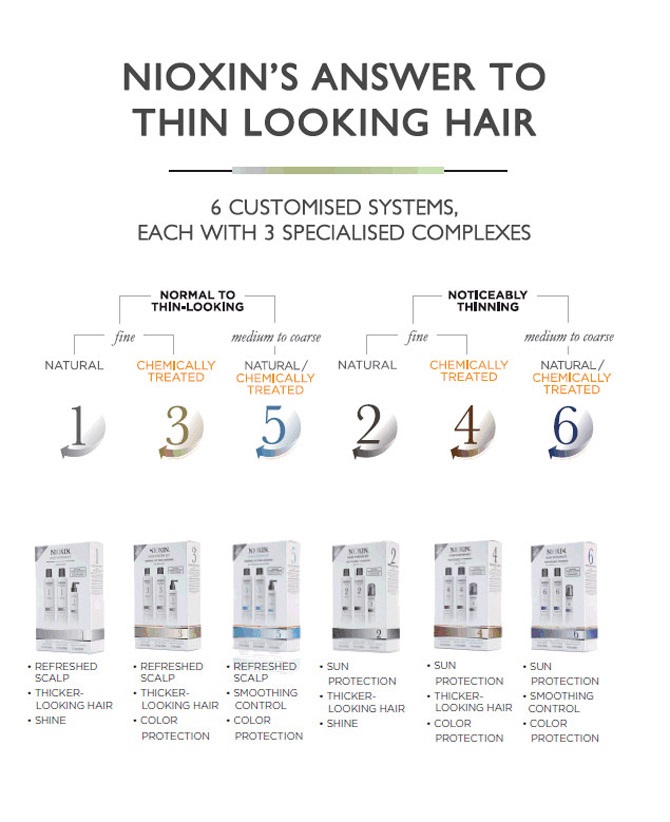 How to use the Nioxin 3-part System:
Cleanser: Emulsify well into hair then rinse out. Repeat if hair requires thorough cleanse.
Revitaliser: Appy to scalp. Leave-in for 3-5 minutes. Rinse out.
Treatment: Apply to towel-dried hair. Leave-in.