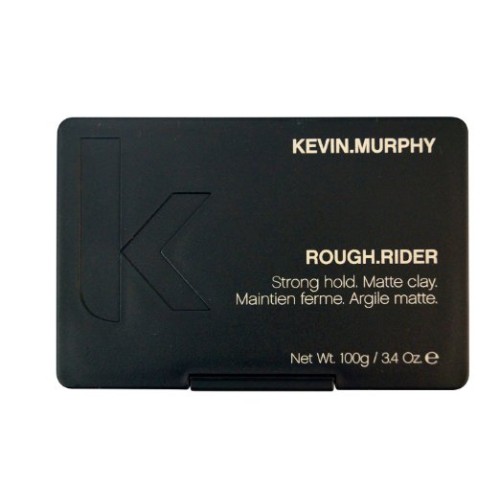 Maintenance to scalp's health.
We have free returns - please read our returns policy
here
.
KEVIN.MURPHY ROUGH.RIDER is a strong hold, matte clay that will create a volume and definition. Infused with Soya Bean Extracts and Golden Bamboo to seal ends and provide strength.

The latest tub joining the KEVIN.MURPHY range draws inspiration from the 'Teddy Boy' looks of the late 50's. A subculture from London, the 'Teddy Boys' had very extreme hairstyles for their day. The hair was all piled on top of the head and sculpted and moulded into shape, this required a product that gave you volume and hold; introducing ROUGH.RIDER.
ROUGH.RIDER creates sculpted looks that require volume, but with a moulded, fuller finish.
By combining a mixture of wax with Diatomaceous Earth, made of 89% Silica which stimulates hair growth, and Soya Bean Extracts that provide nourishment and strength, ROUGH.RIDER is perfect for creating looks that have hold yet with moisture.
Golden Bamboo provides extra strength to the hair and is abundant in vitamins that can have a thickening effect on the hair.
ROUGH.RIDER will help maintain the scalp's health whilst creating a matte finish.
Key Ingredients of KEVIN.MURPHY ROUGH.RIDER:
Soya Bean Extracts - Provides nourishment and strength to your hair while helping to maintain its natural moisture balance and adding softness and shine.

Golden Bamboo - Properties include anti-irritant activity, anti-oxidants and the prevention of damage to cell structure while protecting the integrity of the hair's health. Also contains abundant vitamins and is also a rich source of flavone, phenolic acid, lactone, and polyose.
Sunflower Seed Oil- Helps avoid the stripping of colour from the hair. A natural sunscreen that guards against color fade and brassiness.
Diatomaceous Earth - Made up of 89% Silica. Silica has been known shown to stimulate hair growth. Diatomaceous Earth is used to support healthy, strong hair.
Patchouli Oil - Balances hair and scalp.
Sandalwood Australian - A powerful essential oil, which moisturises dry hair whilst nourishing the scalp.
Directions Of Use:
Rub a small amount between palms and distribute evenly through damp or dry hair.
Most recent
Quality medium hold men's hair product –
This medium hold product dries to a natural texture in your hair. It is not greasy or stiff and doesn't irritate sensitive scalps. Highly recommend!
Written by Christian Ludlow Hyland On 15/03/2019