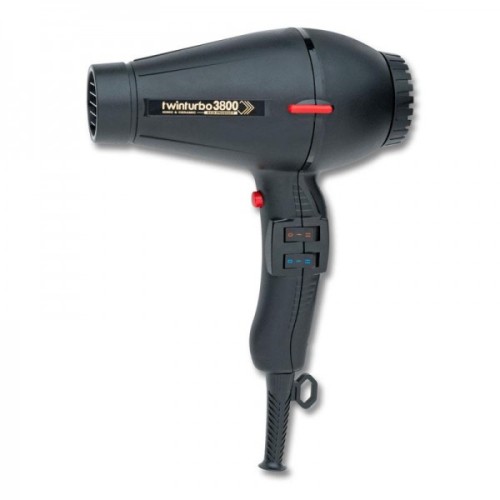 Twin Turbo
3800 Eco Ceramic & Ionic Hair Dryer Black
YOUR FREE GIFT
Australia Day Sale | Get 10% Off
Use Code: AUSSIE10
YOUR FREE GIFT
Select your FREE Hi Lift Treatment when you spend $99!
Incorporated Silencer making it quieter then ever before.
12 Month Australian Replacement Warranty.
Long-last, very powerful, light and easy to handle.
We have free returns - please read our returns policy
here
.
Twin Turbo 3800 Eco Ceramic & Ionic Hair dryer is stronger than ever with it's 2100 watts of power. It's also faster and environmentally friendly.
The Twin Turbo 3800 Hair Dryer is long-lasting, very powerful, light and easy to handle. The 3 most important new technical features of the Turbo 3800 Ceramic & Ionic Hair Dryer are:
Ideal Length: 18.5cm:

This size (between that of Twinturbo 3200 and Twinturbo 3500) was chosen after dozens of trials with the most important hair stylists.
Incorporated Silencer (patent pending):

It makes the 3800 Hair Dryer amazingly quiet, despite the increased dryer power (2100 Watt - 7m m3/h), to the delight of hairdressers and customers.
The emission of "Negative Ions":

Using the tested Twinturbo Ionic & Ceramic system, water micro-molecules are pulverized and, by penetrating the hair shaft, they remove static electricity, making the shaft shiny and soft, which is very important for beautiful, healthy hair.

These features are in addition to the well-known properties of TWINTURBO products - long-lasting, very powerful, light and easy to handle.
Why it is "ECO PRODUCT"

The Eco Product logotype highlights TWINTURBO's commitment to creating ecologic products with low environmental impact, supporting sustainable development and, at the same, preserving the features of the best professional items on the market. The new Twinturbo 3800 Eco Product hair dryer is made with highly recyclable materials devoid of toxic elements. The packaging and technical documents are printed only on recycled, 100% biodegradable paper. The information above is a brief, clear presentation to the great success of the new Twinturbo 3800 Eco Ceramic & Ionic Hair Dryer.
Key Features
The new Turbo 3800 Eco Friendly Ionic & Ceramic Edition Dryer. An energy efficient dryer built from recyclable materials that makes a low-environmental impact.
Fitted with a high-performance, long life K-Lamination motor that delivers more than 2000 hours of drying time.
It is powerful, lightweight and compact.
It offers 2100 Watts of power and 75 cubic meters of air / hour so it dries hair quickly, meaning less heat damage and less energy consumed.
It weighs just over 1.25 pounds.
It has 4 temperatures and 2 speeds and instant cold button.
Fitted with a nickel-chromium heating element and safety thermostat.
Made in Italy. 1 year warranty.
Come with 2 nozzles that are made from indeformable material. One for blow waves, the other for drying.
All packaging and associated documentation is made entirely out of 100% biodegradable recycled paper.
Turbo Comparison Table
| | | | | | | |
| --- | --- | --- | --- | --- | --- | --- |
| | Turbo 1500 | Turbo 2600 | Turbo 3200 | Turbo 3500 | Turbo 3800 | Turbo 3900 |
| Watts | 1300 | 1700 | 1900 | 2000 | 2100 | 2150 |
| Airflow | 60 m3/h | 65 m3/h | 72 m3/h | 73 m3/h | 79 m3/h | 79 m3/h |
| Motor Life | 2000 Hours | 2000 Hours | 2000 Hours | 2000 Hours | 2000 Hours | 2500 Hours |
| Weight | 590g | 590g | 490g | 500g | 500g | 449g |
| Dimensions | 20.5 x 22 x 9.5 cm | 20.5 x 22 x 9.5 cm | 18.5 x 22 x 9.5 cm | 17.5 x 21 x 9 cm | 18.5 x 22 x 9.5 cm | 18.5 x 21 x 9.5 cm |
| Cold Shot Button | - | - | Yes | Yes | Yes | Yes |
| Cord Length | 3 metres | 3 metres | 3 metres | 3 metres | 3 metres | 3 metres |
| Ionic & Ceramic Technology | - | - | Yes | Yes | Yes | Yes |
| Built in Silencer | - | | | | Yes | Yes |
| Included Nozzles | 1 Nozzle | 2 Nozzles | 2 Nozzles | 2 Concentrator Nozzles | 2 Concentrator Nozzles | 2 Concentrator Nozzles |
| Dual Voltage | NO | NO/240v | NO/240v | NO/240v | NO/240v | NO/240v |
| Warranty | 1 Year Warranty | 1 Year Warranty | 1 Year Warranty | 1 Year Warranty | 1Year Warranty | 2 Year Warranty |
| Colours Available | Black | Black | Black, Purple | Black | Black, Silver, Green | Black, Violet |
Most recent
Love it. Dries my hair quickly. Great compact design.
Written by Alison Van On 05/01/2020